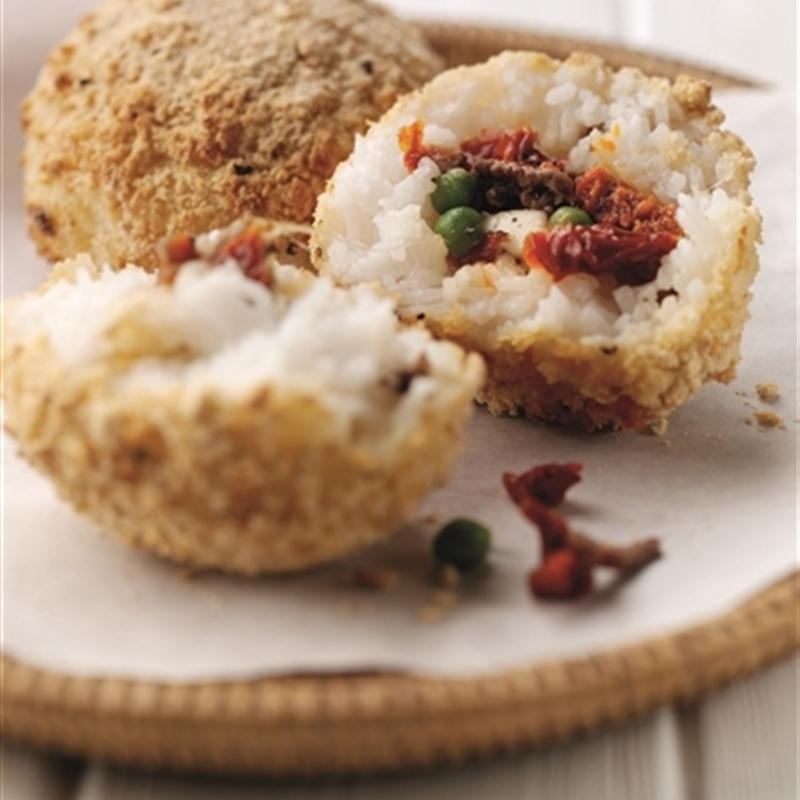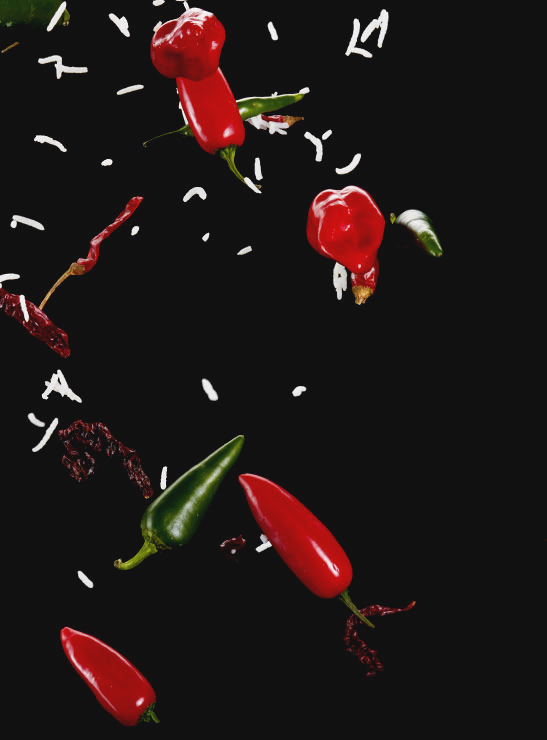 Arancini Di Riso (Rice Balls) Recipe.
Arancini Di Riso (or "little oranges of rice" if you go by the literal meaning) are fried, stuffed rice balls. Traditionally, they are made using leftover risotto rice but here Thai Jasmine rice works just as well.
You'll need...
—

1 tray Veetee Thai Jasmine Rice

—

50g beef mince

—

1 handful of peas

—

3 or 4 sun-dried tomatoes in oil, roughly chopped

—

1 large handful of torn basil leaves

—

1 tbsp red pesto

—

1 large handful of grated Parmesan cheese

—

1 egg, beaten

—

1 large handful of breadcrumbs

—

flour for dusting

—

salt and pepper to taste
The how...
Preheat your oven to 180°C / 350°F / Gas Mark 4
Microwave the pack of rice for 2 minutes according to pack instructions. When cooked, tip the rice into a small bowl to cool slightly and set aside.
Meanwhile, add the minced beef to a large frying pan and fry on a medium heat. Add in the peas, sundried tomatoes, Parmesan cheese and season to taste. Cook for 5 minutes or until the beef turns brown. Add a rounded tablespoon of red pesto, then stir in the basil leaves and turn off the heat. Leave the mixture to cool.
Once the rice is cool enough to handle take a handful of rice, and, using lightly oiled hands, roll the rice into a cricket-sized ball. You should be able to make around 2 balls of this size from one pack.
Push your thumb into the ball to create a cavity, then stuff the hole tightly with the beef mince mixture.
Add a couple of diced mozzarella pieces in too, then take a small amount of rice and put it over the hole to close it up.
Gently roll the rice back into a sealed ball shape. Pop the rice balls into the fridge for 30 minutes to firm up.
Remove the rice balls from the fridge, then sprinkle some flour on your work surface and roll each ball carefully in the flour to get a light, even coating.
Dip each floured rice ball into your beaten egg mixture, then roll in seasoned breadcrumbs.
Place your rice balls on a non-stick baking tray, and bake in the oven for 20-25 minutes until browned for a healthier alternative.
Season and serve hot, sprinkled with Parmesan cheese if desired.